February 6th, 2023
Choosing your first 3D modeling software in 2023: An overview of Blender, 3ds Max and Maya
3D modeling has become a creative and exciting way of bringing your ideas to life. No matter if you are a designer, an engineer, an artist or simply a hobbyist, it allows you to create accurate and detailed digital models of objects, characters, environments, etc. 3D modeling though comes in many flavors when it's time to choose the right 3D software in which you will embark your journey as a newcomer 3D designer. With the right software, you can create anything you can imagine, from simple shapes, to complex 3D scenes, animations and even be able to create your own movie or video game. But with so many options to choose from, the first step can feel overwhelming rather than exciting and full of adventures, especially if you are a beginner.
When choosing a 3D modeling software, it is important to consider the type of projects you would like to be able to work on in the future and their corresponding techniques and workflows. Do you want to be able to sculpt characters? Create a lifelike rendering of a building? Rig and animate your models? All of the above?
Another important consideration when choosing your first 3D software is the ease of use and the initial cost. Some 3D software are free and open source with large communities that can support you each step of the way. Others have a more steep learning curve, require an initial investment, don't have such large communities, but are considered the industry standards when it comes to finding a job as a 3D designer or being able to create your own models and sell them on various marketplaces.
Well, the possibilities are endless, along with the countless videos and articles you will come across as a beginner, and in order to help you out we will summarize everything for you in this article, telling you all you need to know about the 3 most popular 3D software in the industry for 2023! Blender, 3ds Max and Maya.
Blender
Blender is the first software on the list and without a doubt one of best and most popular pieces of software out there. One of the biggest advantages of Blender and the main reason behind its popularity is the fact that it is open source and free to use. This makes it an accessible option for everyone to learn and use, which is especially beneficial for beginners who may not have a budget to invest and experiment with expensive software. Another advantage with it being a completely free option is that users interested in 3D can learn Blender at their own pace instead of worrying about a license running out and pushing themselves, which can result in users burning out and abandoning the idea of learning 3D modeling once and for all. You should always keep in mind that learning 3D modeling is a long process that requires hours of experimentation, trial and error, thus working with a software that doesn't punish you for taking your time is essential. As a free and open source piece of software, it is a very cost effective and budget friendly option for those who are just starting out. Users have access to all of the software's capabilities with zero licensing fees, making it the perfect tool for those looking to break into the industry or to those who just want to work on personal projects.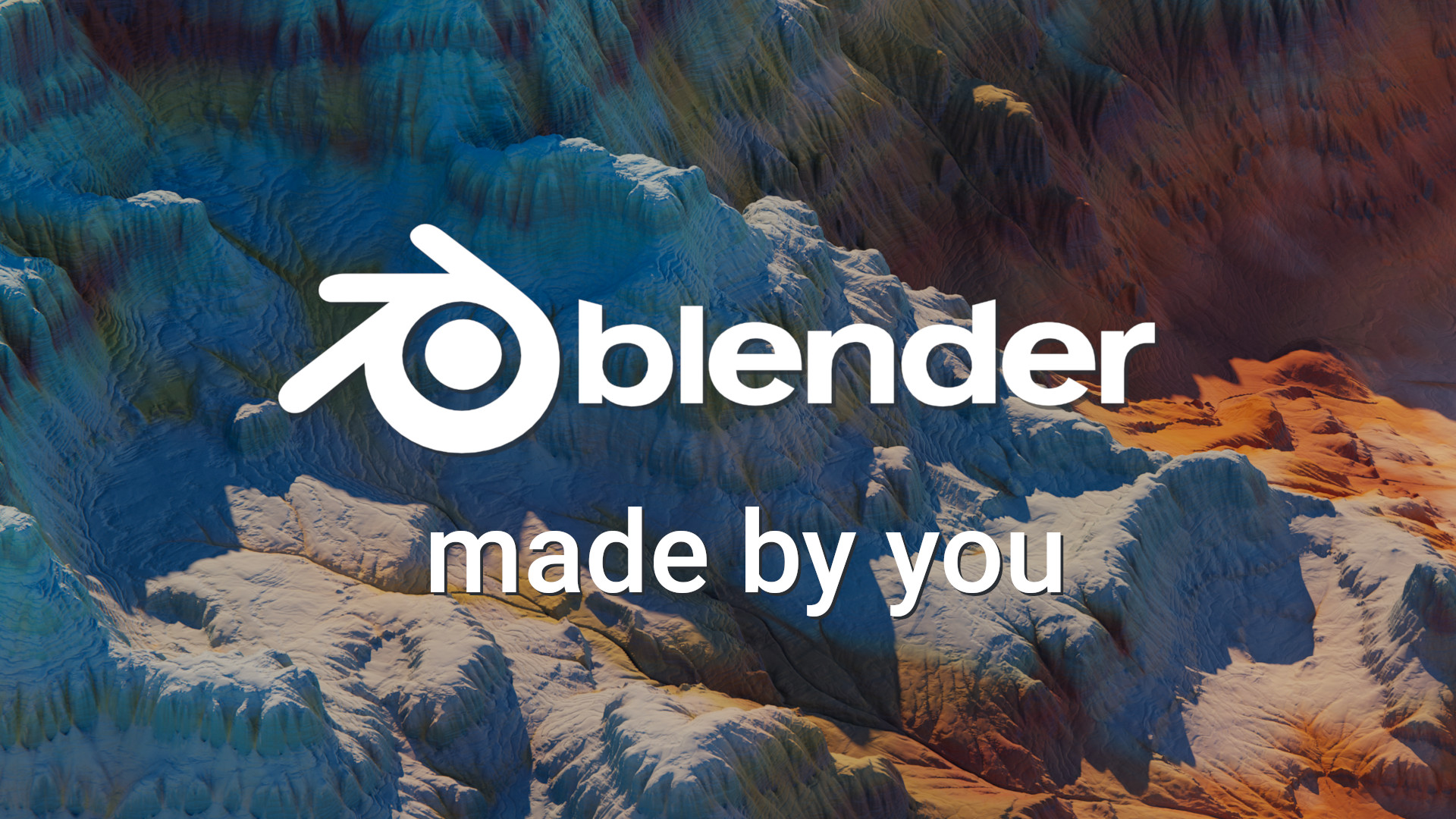 Despite being free to use, it is packed with powerful tools and features that make it a complete powerhouse offering endless possibilities to the end user and can easily rival other commercial software. Blender has a full suite full of modeling tools, physics and simulation tools, sculpting tools, particle systems, a fully fledged composition editor, etc. Aside from all those tools, the software also offers a robust and versatile animation system, enabling users to create complex animations and breathtaking VFX compositions.
Furthermore, it has a vast and active community of professionals and hobbyists from all aspects of the 3D industry ready to help and support each other. This large community is a very valuable resource for those who are just starting out with Blender or with 3D in general, as it provides access to a wealth of knowledge and inspiration. In addition, the Blender community is constantly developing new tools, plugins and scripts that expand the feature-set and functionality of the software.
To summarize Blender, it is a free and open source 3D software with a wide range of tools and features for designers. Its cost effectiveness, powerful toolbox, and vividly active community make it one of the most popular choices in 2023 for individuals all over the world, either seasoned professionals or beginners who are just starting out their 3D journey. Whether you are an aspiring artist, a designer, an engineer or a filmmaker, Blender will absolutely help you bring your creative vision to life.
3ds Max
Next on the list is 3ds Max, also known as 3D Studio Max, which is a fully fledged professional software developed by Autodesk, a big name in the 3D, CAD and engineering industry. 3ds Max is very popular amongst 3D visualizers, engineers and video game developers. It is also widely adopted by the entertainment industry and is used by animation studios, film and production companies. With over two decades of development, it has become one of the most popular tools in the 3D industry. Unlike Blender, it is a commercial application that requires quite an expensive subscription for it to be used.
Its popularity derives from the fact that over the years it has become an industry standard in the world of 3D and is used in the pipelines of the biggest studios and professionals that create high quality models, lifelike 3D scenes, assets for the biggest video games, etc. The industry recognition makes it a valuable tool for those who are looking to break into the industry or for those whose goal is to work in studios with a well established workflow and production pipeline. Tools like 3ds Max created by big companies like Autodesk are 24/7 supported, thus are preferred by large organizations, unlike free and open source solutions like Blender. Additionally, Autodesk provides a wide range of support to its users, varying from from online tutorials to forums, online resources and more.
Along with its excellent support, 3ds Max is a powerful tool that can handle complex projects with ease. Many features and tools come with it that enable users to create complex geometry, animations, simulations and more. Furthermore, it excels in the department of interoperability with the world's most popular and powerful render engines such as Arnold, Redshift, Octane and more that have become industry's favorites too.
Last but not least, it has a growing and active community, similar to Blender, that constantly provides resources in the form of assets, tools and tutorials. This kind of external support is extremely valuable not only to individuals taking their first steps in 3D modeling, but to experienced professionals looking to level up their skills utilizing all the functionalities that this piece of software offers.
In conclusion, 3ds Max is a well rounded 3D tool that is widely adopted among various professionals in different parts of the industry. Despite requiring the purchase of a digital license in order to be used, the benefits of the constant support, development and resources outweigh the cost, making it an industry standard that is well established in the present and ensures it continues to be used and adopted even more in the future.
Maya
Finally, let's take a look at Maya which is the third software on our list. Maya is another 3D software developed by Autodesk. Being under development by the same company, Maya boasts many similar characteristics and features to 3ds Max, but has many differentiating factors too that set it apart. It is a powerful software with modeling, simulation, animation and other capabilities, but in contrast to Blender and 3ds Max, it has been widely adopted and established as the "go-to" 3D software in the film and visual effects industry, being used for creating high-quality 3D animations, special effects and 3D models for movies and television. It is a commercial product too that requires a hefty annual subscription in order to be used. Along with the subscription though, comes the excellent support from Autodesk which is what makes it a very attractive package for professional environments.
Maya is a very capable 3D software with a wide range of tools that allow users to create complex and detailed 3D models, big scenes, simulations and more. Where it scores above the other two softwares in our list though is the animation field. Maya is a robust software that offers a vast collection of animation tools that enable users to create high quality and very detailed work with a bit of programming knowledge in languages such as Python. While 3ds Max and Blender also have the capability to create animations, it stands out in terms of its well refined workflow, ease of use and availability of tools. Maya is extremely well built for rigging, with capabilities that surpass those of Blender and 3ds Max. It provides more advanced rigging tools and workflows that users can take advantage of and create lifelike animated scenes. Combining these capabilities with its integrated 3D modeling tools, it can be considered the leader in the realm of 3D animation and motion graphics.
Being such a niche and well supported software, it has been adopted by professionals and studios worldwide in the field of animation, filmmaking and advertising. As a result of its popularity and industry wide recognition, professionals who have mastered Maya are highly sought after in the aforementioned fields. Because it is well supported by its manufacturer, users can be confident in the continued development and improvement of Maya, ensuring that they can keep up with the latest advancements in the field. It is now regarded as the industry standard in its sector thanks to the substantial support and wide adoption it has received from experts and creative studios.
Finally, Maya has a thriving community too, although smaller than those of Blender and 3ds Max, it still offers ample support on forums and social media groups. Users with years of experience in the field who are keen to extend their knowledge and make the most of its possibilities as well as those who are just starting out in 3D and especially animation can benefit greatly from this external support.
Ultimately, Maya is a strong and well-known 3D program in the film and visual effects fields. Maya is the software of choice for professionals and studios all over the world because of its sophisticated rigging capabilities, robust animation tools, and well supported processes. Although there is an annual subscription fee, it is well worth it to have access to the most recent developments and ongoing Autodesk support. Users, tutorials, and support provided by the active and expanding community. Thanks to its broad capabilities and well-established industry reputation Maya is a great investment for anyone wishing to pursue a career in the 3D sector with a focus on animation and motion graphics.
What about software other than Blender, 3ds Max and Maya?
There are numerous 3D programs available out there with various features, capabilities and in different price points too. At CGTrader we are all about staying on top of the latest and greatest trends in the 3D world. The 3D market is constantly evolving and we are sure that there are many lesser known options that deserve our attention. This is why we will be closely monitoring the developments of the most important tools for 3D artists with the goal of revisiting and expanding the list. We are constantly seeking feedback from our community and we are eager to learn about their software preferences and recommendations. Bottom line: we are constantly expanding our knowledge so you can stay ahead of the game.
Comments
Tell us what you think!